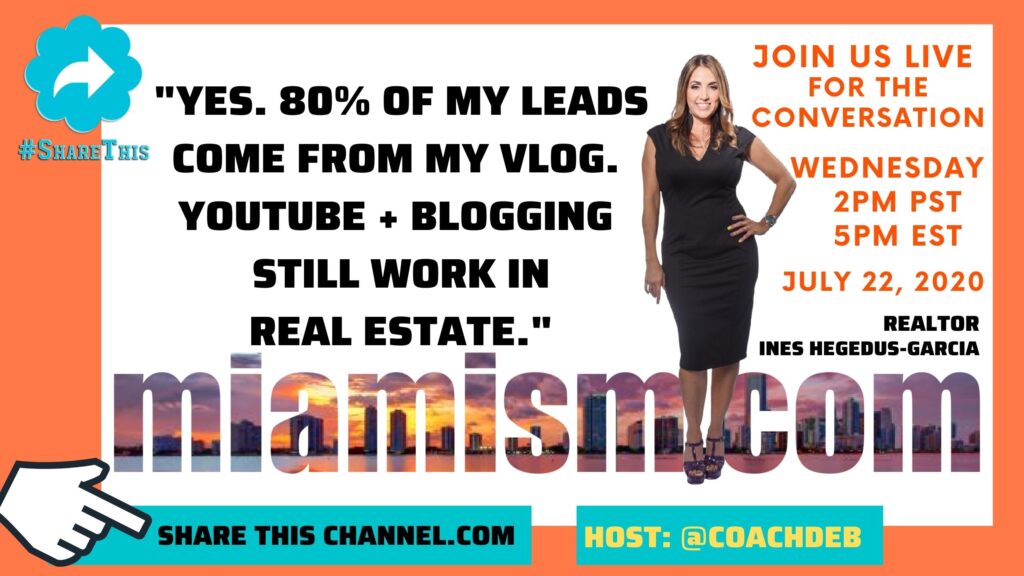 Vlogging For Realtors = Get More Leads From YouTube Videos
80% of Leads For This Realtor in Miami come from her Vlog / YouTube Videos / Miamism Blog.
Join us for this LIVE Conversation on YouTube with Ines Hegedus-Garcia and see how YOU can get MORE Leads using Video Marketing for Your Real Estate Business or Profession / Small Business.
2020 doesn't mean you can't meet new people who need your product or service. In Fact, if you do it Right… you'll find yourself meeting MORE new Leads / Clients who need your services, without ever leaving your home office — because you'll be able to meet more people with just ONE video, than you'd be able to do in-person at a networking event.
Excited to introduce my next guest to you, and share the secrets she has with you on how she started getting more leads for her Real Estate business when blogging and YouTube first started, over a decade ago.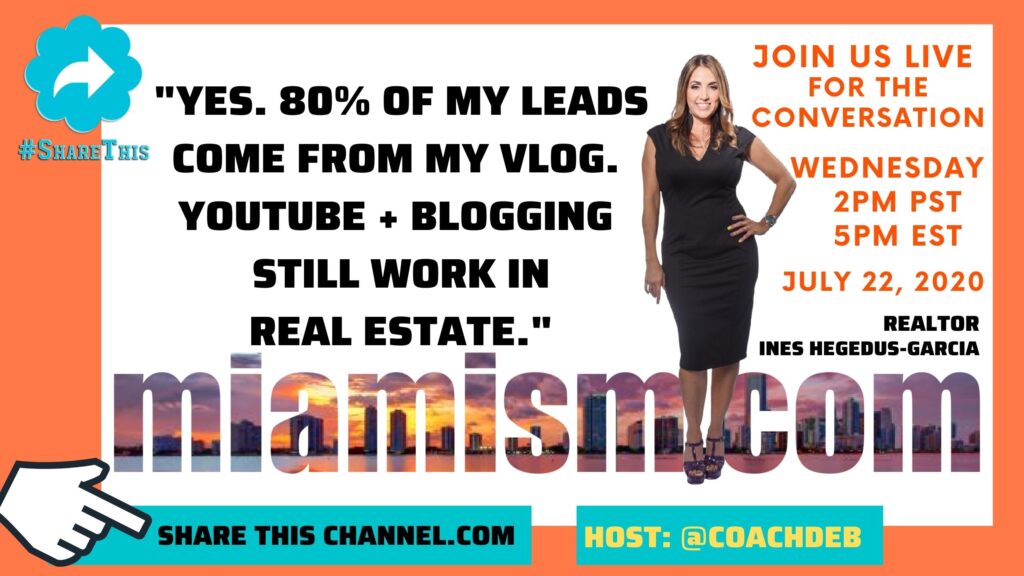 If you are a REALTOR… and you are just now learning HOW to do a Virtual Open House… in 2020… meet the woman, the REaltor, the Pioneer, Ines Hegedus-Garcia who has been doing Virtual Open Houses since 2012… for the past 8 years.
Learn how you can avoid the mis-steps along the way!
This is going to be one exciting conversation for Realtors and Professionals alike learning to do more business online this year than ever before.
oh – and btw… #MythBusted
You do NOT need thousands or millions of followers or subscribers to connect with people who need your services.
In fact, you can get leads with less than 100 subscribers!
My client just did exactly that this past week, in the year 2020!
And I've had clients doing that since 2006, before YouTube even had such a thing as "subscribers" – they were meeting new leads who became loyal clients who did business with them for years to come.
We'll discuss all this and MORE on this Wednesday's show.
JOIN US LIVE to Participate in the Conversation:
Starting LIVE
2pm PST
5pm EST
Join us LIVE and ask YOUR most important question talk how to use videos and blogs to meet your new leads / clients in the Real Estate industry